Robert Lee
Robert Lee is a man who appreciates the value of tools. He uses very large and powerful tools in his work as a mechanic at a very large industrial facility not far from his home in Starke, Florida. When Robert first met the surgeon who would perform bariatric surgery for him, his doctor made it clear the procedure was a tool — not a magic pill.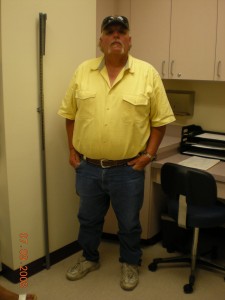 "I will always remember what Dr. Sarantos told me when I had made up my mind to have weight loss surgery," Robert Lee says. "He told me he could give me a great tool to work with. If I used it properly and worked with it, it could change my life. I made up my mind that I would do whatever they told me to do, and it has really worked well for me."
It was July 2008 when Dr. Pete Sarantos performed adjustable gastric banding for Robert Lee. At his heaviest, Lee weighed 293 pounds. In February 2010, Lee weighed 192 pounds. After losing 101 pounds, he is nearly at his goal weight. The significant weight loss has translated into improved health for Lee, who is now 52 years old.
"I had sleep apnea before, and now I do not. I took medicine for high cholesterol, and now I do not. I still take some medication for high blood pressure, but much less than I did before," Lee explains. "My goal is to get off all medicine for high blood pressure, and I believe that is possible."
Robert's wife, Robin Lee, has been by his side through the weight loss journey. Her husband, she says, once came home each day from work utterly exhausted and too tired to do much of anything other than rest until bedtime.
"Robert's job requires him to work with large and very heavy tools," Robin says. "On top of that, he had to carry himself, and all that weight literally wore him out. It also was very hard on his joints. Once, he was in a good deal of pain in his knees. That is no longer the case."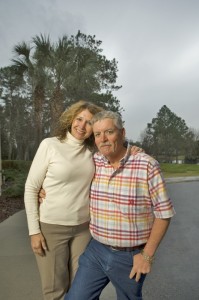 As he hears his wife talk about the pain he once felt in his knees, Robert nods his head and remembers how his excess weight affected one of his favorite hobbies. "My friends and I love to hunt," Robert says. "A couple of years ago, I would have to tell my friends to go on without me, and I would just wait at the truck. I was too tired, and my legs hurt too much."
More than 100 pounds lighter, Robert has plenty of energy again and says he feels like a new man. Although his decision to have weight loss surgery was a choice he made because he wanted his health back, his wife also points out another result of the procedure.
"Robert looks like he did when we first got married 35 years ago," Robin says. The couple say they believe Robert's decision and his success will give them a chance for many more years together in a lifestyle that is active and healthy.
"Actually, I wish I had done the surgery 10 years ago," Robert says. "I feel so much better now."