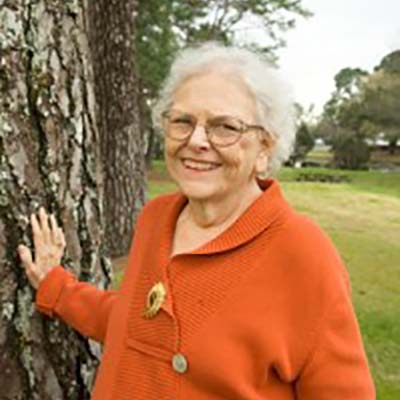 Judibeth Taylor
Looking back a few years ago, Judibeth Taylor was happy about most things in her life. She was happily married for nearly 50 years to the same man and enjoyed supporting his work as a United Methodist minister. She was proud of their 4 children, 12 grandchildren and 6 great-grandchildren. But there was one thing she was definitely not happy about. She weighed 307 pounds.
"My health and my life changed because I was so heavy," says Judibeth. "I couldn't walk and move around. I had diabetes, high blood pressure and high cholesterol. My weight put my life at risk, and I had to do something."
What Judibeth decided to do was explore weight loss surgery. What she learned convinced her it was the best choice for her. In March 2007, Dr. Bruce Brient performed laparoscopic gastric banding for Judibeth at North Florida Regional Medical Center. Gastric banding is the least invasive form of bariatric surgery.
"I feel so much better now," Judibeth says. "I am very active, and I enjoy spending time with my grandchildren. I enjoy my life."
Judibeth now weighs 143 pounds, and her weight loss has resulted in greatly improved health. At one time, she needed 160 units of insulin daily for her diabetes. She now requires no insulin at all and has totally managed her diabetes. She still needs medication for other conditions, but she has greatly reduced the amount she must take.
Like so many other patients who struggle with obesity, Judibeth Taylor was heavy very early in her life. She remembers being overweight when she was 10 years old, and it became something she just lived with. Judibeth says she was 64 years old when she decided to have weight loss surgery, and many people who knew her questioned her decision at that time in her life. She did not let that stop her.
"I felt that – if I changed my life – I had a chance for many years to come to be with my husband and family," explains Judibeth. "Why should I let my age stop me from doing something that could help me have a longer and healthier life?"
Judibeth smiles and says her surgeon, Dr. Bruce Brient, now uses her as an example to other patients considering bariatric surgery when they are past 60. It pleases her that her success may help someone else accomplish the same result that has changed her life.
"I know how it feels to be so heavy for so long and to lose hope," says Judibeth. "My advice to others is to have faith that things can change. I think I would not not be here today without the surgery. It is as simple as that."