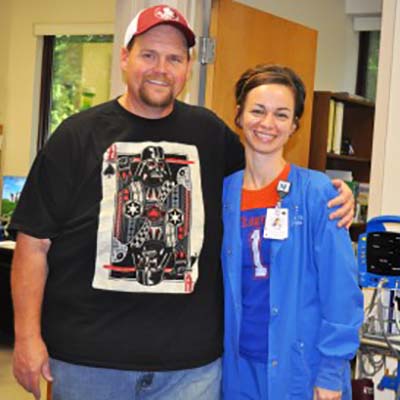 David Leach

When David Leach's weight reached nearly 530 pounds, he realized his struggle with healthy eating had changed from something that was just inconvenient into something that was dangerous. Walking a very short distance met it was nearly impossible to breathe. His joints hurt. His back hurt. And those were just the health problems he was aware of. David began to worry there were more. If he didn't do something, he knew his time on this earth would probably be pretty short.
After considering his options, David chose bariatric lapband surgery at the Obesity Center for Surgery & Treatment on the campus of North Florida Regional Medical Center. In the pictures below, you can see David at his heaviest and where he is now. He hardly looks like the same person.
At his heaviest, David Leach weighed nearly 530 pounds. This photo was taken when David had already lost some weight to get ready for surgery.
By November of 2015, Davis is down to just over 280 pounds. His ultimate goal is 200 pounds, so his weight loss journey continues. David remains positive.
Two years later and more than 200 pounds lighter, David is a different man. He still has a ways to go before his journey to a healthy weight is over, but he's made incredible progress. On National Healthy Eating Day, he was glad to sit down and talk about it all with WCJB-TV Health Reporter Lauren Verno.
David acknowledge he has reached a plateau, and he shares the frustrations of others out there who experience that. His suggestion is to do what he has done when that happens. David asks for help and returns to the Obesity Center for guidance, direction and encouragement from his surgeon, Dr. Jeff Rose, and all of the other staff members, including Dietitian Cheryl Robertson and Bariatric Nurse Pam Hart.
David Leach says weight loss surgery was actually one part of his success. Having a great medical team and continuing to ask them for help have been just as important as the surgery itself.
So, getting past the plateau is Priority One. Along the way, he wants to encourage others facing big weight loss journeys the way he received encouragement. Rest assured, David will get there. There's no question about that. His only remaining question is whether he will look totally different when he reaches his goal weight. David promises to share his photo when thathappens. So, stay tuned!