What is Band Over Bypass?
Band Over Bypass is a shortened way of naming the procedure to perform the LAP-BAND after a previous gastric bypass procedure. Unfortunately, some patients experience weight regain after gastric bypass. Usually, this happens when patients no longer follow the eating plan necessary after surgery. Just like any muscle in the body, the stomach can stretch, even after it has been reduced in size during surgery. Over time, even gastric bypass surgery patients can regain their weight.
Some patients are under the misconception that this means they no longer have any weight loss surgery options. That is not true.
In this situation, the lowest risk procedure is the gastric band over bypass, often simply referred to as band over bypass. Placing an adjustable gastric band over the bypass allows for renewed restriction and the chance to lose weight and regain health.
How does the surgery work?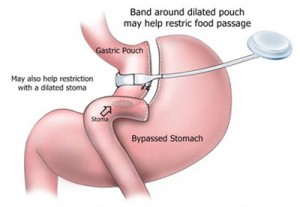 This procedure is very similar to laparoscopic adjustable gastric banding performed for patients who have not had previous gastric bypass procedures. You can find more information about this procedure on the LAP-BAND page. In summary, an adjustable band is placed at the top of the stomach pouch and tightened to restore restriction. This makes patients feel full after eating less food and restores the restrictive function of the original gastric bypass. In essence, this creates an adjustable gastric bypass. Also in similar fashion to the LAP-BAND, an injection port is attached to the abdominal wall under the skin. The port is connected to the gastric band with tubing. As with every gastric banding system, the band is fully adjustable and can be tightened or loosened in order to increase or decrease restriction as needed for individual patients.
As we have shared elsewhere on this website, weight loss surgery should never be considered a magic pill. It is a powerful tool to help make weight loss possible, and it needs to be combined with proper lifestyle and dietary choices. For this reason, physicians and staff of the Obesity Center for Surgery & Treatment work extensively with individuals who may be considering a band over bypass procedure to ensure that the desired outcome can be safely achieved.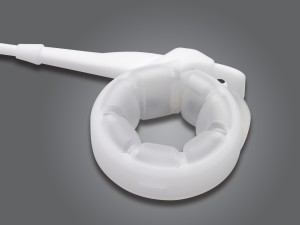 A decision to undergo a revisional procedure or any weight loss surgery should not be taken lightly. If you are considering such a procedure, we encourage you to speak with our physicians and staff to understand the options that are available to you. We recommend a thorough evaluation of your condition and weight loss goals. Together, we can assist you in making an informed decision about what will work best for you, your goals and your health.